He finally proposed? If the answer was yes, finding the perfect gown is where it all starts, one of the biggest decisions a bride has to make. If you are looking for a wedding gown that will leave everyone delighted every time they look at your wedding photos, look no further than Jina Magazine's compilation of bridal gowns you can choose from.
1. Ball Gown
Nothing gives off princess vibes more than a ball gown. Ball gowns are very popular mainly because of their amazing bulky-like design below. The fabric that's used to sew a ball gown is mainly lace. And who said wedding dresses have to be all white. Nowadays, brides wear gowns in different colors, ranging from pink to royal blue, whatever takes their fancy. Live out your Cinderella fantasy with a ball gown and feel like royalty.
2. Mermaid Gowns
Mermaid wedding gowns have a form fitting and dramatically flayers out just above or below the knee. A daring piece for brides who want to feel sexy on their wedding day and stay true to their style. The best thing about mermaid gowns is that, unlike ball gowns, this gown plays up natural curves creating an hourglass figure.
3. Bridal Suits
What is a wedding suit?
Basically, a wedding suit consists of a blazer, top and tailored pants. You will be so comfortable dancing the night away with this versatile piece. There are so many styles to choose from in wedding suits and tuxedos. Whether you go for patterned suits, relaxed linen and shorts, or an oversize blazer with wide leg trousers, there is a pant suit for every bride. Grace your wedding day in a sleek three-piece pantsuit.
4. A-line Gowns
An A-line wedding is the style you'll want for your big day. This bridal gown silhouette is characterized by a fitted top and a semi-voluminous flared bottom that flows from the waist down to the ankle and beyond depending on the bride's length choice. It is by far the most flattering wedding dress design. If this flatter doesn't do it for you, there is another encomiastic piece, the modified A-line wedding dress.
The key difference between the two is that the modified A-line gown is fitted on the upper part of the dress and hips and gradually flayers to the hem. Whatever your style is, an A-line wedding dress would be picture perfect for your wedding.
5. Sheath Wedding Gown With Long Sleeves
The sheath silhouette is always-on-trend tailoring because of its ability to highlight your unique features by holding a narrow shape that flows straight down from the hips and follows your natural body shape. This is why it's ideal for lean frames such as petite brides. The added sleeves are a minute detail but add more coverage with a romantic touch to any sheath wedding dress.
6. Ankara Wedding Gowns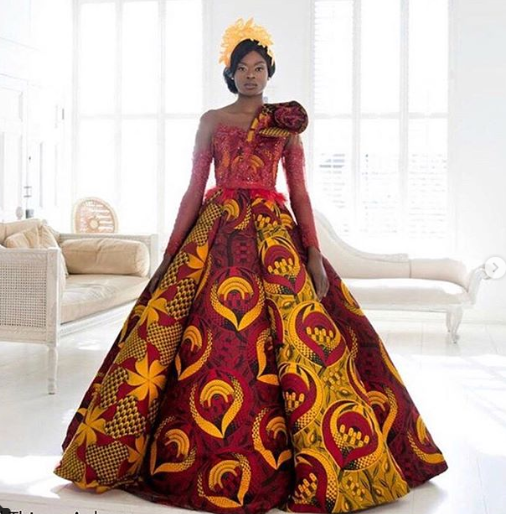 There is no mentioning of wedding gowns without the Ankara wedding dresses. There is nothing prettier than a pop of African culture in a wedding dress. With its bright colors and interesting patterns, the Ankara fabric an authentic piece that gives brides the freedom to create a style of their choice. Whether you prefer a sheath, trumpet, A-line, or ball gown, Ankara can be fitted to suit every bride's style and preference.
7. Knee-Length Gowns
Short wedding dresses are in huge demands in markets nowadays. Its elegance and a touch of modernism in one dress. If you are on a budget, and still want to make a statement on your special day, a short wedding dress is for you, It costs less to purchase or make due to less material needed. The perfect dress for a beach wedding.
8. High Low Gowns
Perfect for the modern woman, this silhouette is popular for its creative features- an asymmetrical design with the hem on the front being shorter than the hem on the back. This contrast between high and low allows you to show off your legs and shoes as you walk down the isle. The high low wedding dresses are versatile and come in many different styles.
Long Sleeved High Low
One Shoulder High Low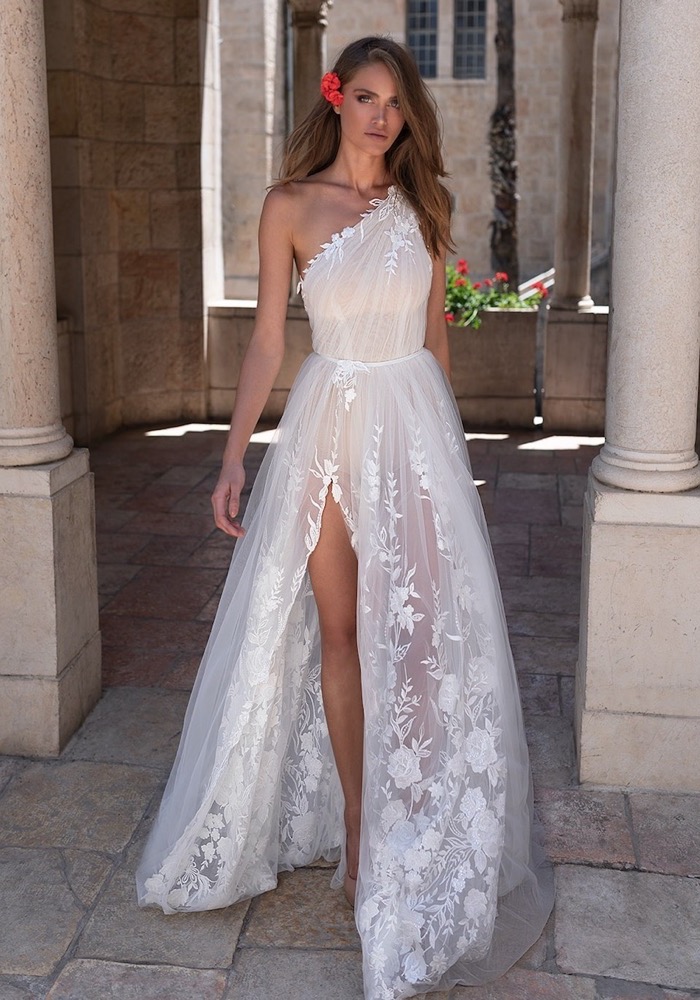 High Low Ruffle
High Low Tulle
Purple High Low
Black High Lows
Pink High Low